Simply put, the game is for anyone, anytime, anywhere.
We worked with The Football Association who were managing a digital transformation program whilst developing a new brand strategy and content generation. VCCP developed a brand strategy aimed at re-establishing The Football Association's connection with grassroots football. Simply put, the game is for anyone, anytime, anywhere. In other words: For All. See more here.
With this came the challenge of bringing this brand platform to life using content and digital as key channels. Building on key insights we embarked on a digital transformation journey with The FA that would modernise their digital footprint and put the For All mantra at its heart.
A legacy environment left The FA with a disparate and complex digital ecosystem with over 50 domains / sub domains across the portfolio, lacking in a unifying platform and sub-par in terms of ease of internal and external usage.
Over a six month period we worked with the core stakeholder team at The FA to design and deliver a robust, scalable, responsive foundation from which to grow and innovate in the form of a new TheFA.com site. 
But TheFA.com was just the beginning...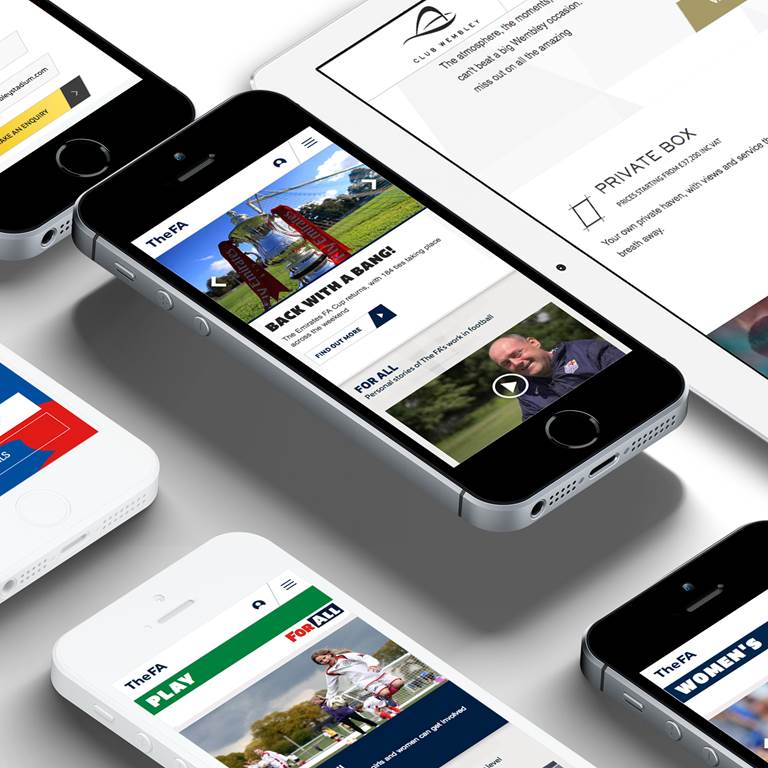 We are engaged on a longer-term programme to consolidate their digital ecosystem and continue delivering against their product development backlog, including Wembley Stadium, Training, League & competition management systems, player management systems and of course ticket and merchandise sales.
Working closely with The FA development team deep within Wembley itself, using agile sprints, we built a responsive and scalable platform for The FA.
The new framework is capable of handling the many intricacies of content and subbrands under the FA umbrella, from Wembley Stadium, to all 52 county FAs, to tournaments, youth football and everything in between.
In a parallel content management workstream we planned how the new site would be populated and where gaps in content needed to be addressed ahead of launch.
To ensure anyone can get involved we also created tools and utilities to help engage future players, refs, coaches and football lovers. 
Check out the work yourself: www.thefa.com