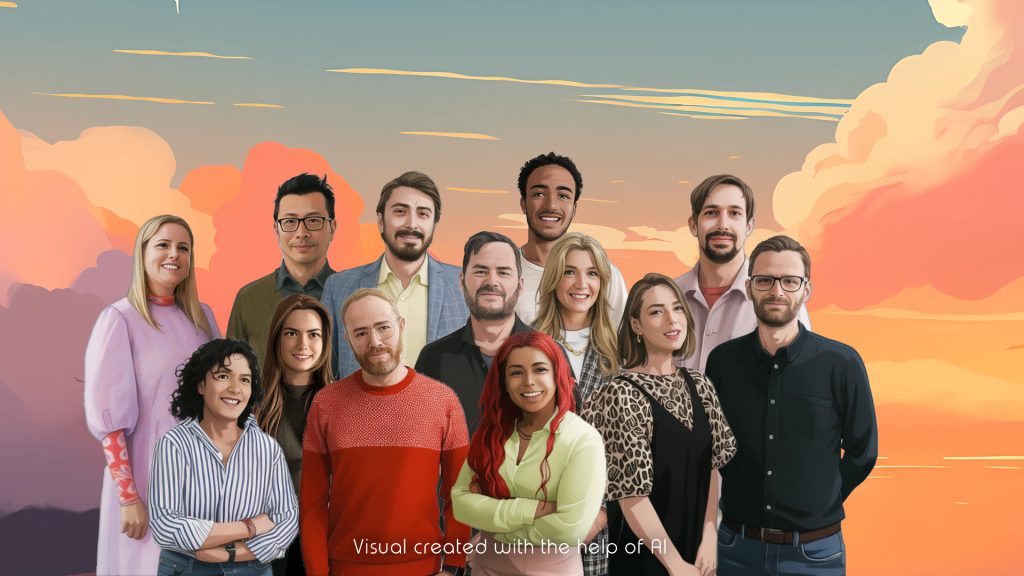 Sage will be the agency's founding client
The UK's leading creative agency VCCP, is today launching an AI creative agency called faith. The new agency will act as the Group's Generative AI creative shop, producing work for new and existing clients and through a pioneering partnership with two universities will also act as an explorative R&D hub.
The agency launches globally and will work alongside VCCP's seven international offices, servicing VCCP's worldwide roster of clients. VCCP has created and been using generative AI tools for several years within its media, data, planning, production and UX/UI capabilities. This move sees the network further invest in their AI capabilities to accelerate and diversify their learning and client offering
faith will be spearheaded by VCCP Partnership CEO, Michael Sugden who will also become CEO of faith. The agency will launch with a collective of 14 practitioners made up of creatives, technologists, prompt engineers, strategists, data analysts and makers. 
Talking about the agency's ambition Sugden explains: "We have faith that AI, used responsibly, will be an unparallelled accelerator of human creativity and imagination. We reject the notion that AI will make human creativity obsolete. Sugden continues "We won't realise this potential however by noodling around with MidJourney and Chat GPT. This is why we're launching a dedicated agency to advance AI's creative applications, accelerate our collective learning and share it quickly with our clients".
faith launches with a founding client Sage, the leaders in accounting, financial, HR and payroll technology. Cath Keers, Chief Marketing Officer at Sage explains: "As a market leading technology company, thousands of Sage customers are already benefiting from AI solutions and services, elevating the work of humans and freeing them from repetitive administration tasks. AI also provides us with powerful insights that help us deliver a more personalised and human experience for our customers.
"We are excited about the possibilities of this collaboration and what it gives us from a creative agency perspective."      
faith launches with two knowledge sharing R&D partnerships with universities at the forefront of innovation in the creative and technology sectors. 
A Knowledge Transfer Partnership with Staffordshire University's Digital Technologies and Arts faculty will be focused on designing the new "frameworks for use" within the industry. A partnership with Keele University Business School will explore the implications of AI on the operational and commercial structure of businesses. 
VCCP Partnership Chief Strategy Officer Michael Lee will also become CSO of faith. He explains "We're delighted to have partnerships with two of the most forward-thinking universities in the UK. Staffs is a world leader in virtual production, and Keele University has already worked successfully with other industries such as law and architecture to develop and understand the implications and opportunity of real world applications of AI."
Dr Colin Rigby, Director of Enterprise at Keele University's Business School said: "We're very excited to be working in partnership with VCCP. At KBS we've been exploring the potential of AI in areas as diverse as neuromarketing, net zero opportunities, customer service and work enrichment. The creative sector is an area of almost unlimited potential for successful application of these new AI capabilities."
Professor Carlton Reeve, Associate Dean for Research and Enterprise, School of Digital, Technologies and Arts, Staffordshire University added: "We have a unique transdisciplinary approach that brings together expertise from diverse but complementary disciplines ranging from art and design to engineering including media, games and computing. Our partnership with VCCP is an important way to explore new ideas and ways of working with AI in the creative sector. It's great for our staff to share and develop their expertise and for our students who gain invaluable real world experience."  
With the belief that AI should only ever be used for good, faith launches with a detailed generative AI policy based around four principles:
Be Transparent

when AI is being used

Be Authentic

, fact-check AI-generated content

Be Compliant

and break no laws

Be Ethical

, only use AI for good
The shop is actively recruiting for further prompt engineers. For further information on faith, please visit https://www.vccp.com/capabilities/ai. 
We have faith that AI, used responsibly, will be an unparallelled accelerator of human creativity and imagination. VCCP Partnership and faith CEO, Michael Sugden