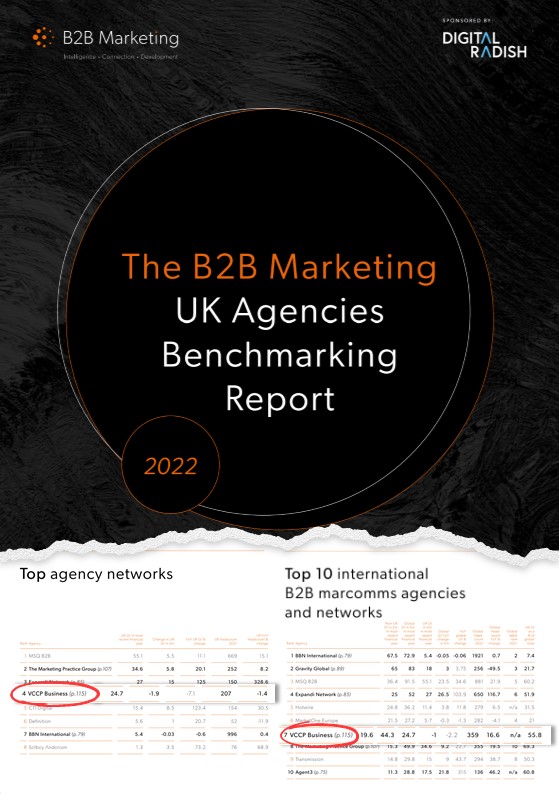 We are delighted to see VCCP Business recognised in the latest B2B Marketing League tables out now.
Entering for the first time, we've come in at No.4 in the Top Agency Networks table and No. 7 in the Top International B2B marcomms agencies and network.  Both placements are a fantastic reflection of the transformative work that we are delivering across all of our B2B clients, as we make B2B experiences as powerful as Consumer ones.
As our showcase in the report outlines, we combine world class creative backed by a global team, to create big, bold ideas that challenge back.  With expertise that spans across sectors including technology, financial services and healthcare, we deliver transformative experiences that change perspectives and behaviour.  
Jo Parker, CEO VCCP Business comments: "Our entry league table placement reflects our ambition for the sector. The pressure is on businesses, with expectations to have greater impact while treading ever lightly. The porousness between personal and work worlds, as well as the accelerated shift to direct relationships, has heightened expectations of the B2B brand experience which is having a profound effect on how businesses behave and communicate. B2B has never been as exciting a sector to work in as it is now and it's what motivates each and every one of us. I can't wait to see what more can be achieved."
Follow us on LinkedIn and Twitter to keep up what how our global mindset and local understanding is shaping B2B.  And listen here to The Challengers, our B2B podcast series where in each episode, we go into the woods and challenge a B2B bear.