This is the story of how a simple, untapped human insight led to a proposition and communications idea with incredible results.
In 2017, with increasing apathy towards new phones, increasing competition from both new and old competitors, and the decreasing distinctiveness of some of its most treasured brand assets, O2 faced its toughest market conditions to date for selling the new iPhone.
They needed a new approach that didn't lean on the quality of new handsets, or on price alone to capture critically important iPhone customers.
So instead, we took a moment that telecoms companies had traditionally run away from - that moment of breaking your phone screen - and changed it into a positive for the customer with 'Oops', giving customers free screen replacements on the latest phones.
This fit perfectly with our research that showed people didn't necessarily want the latest phone, but they did want their phones to look and feel new for as long as possible.
People in the UK have amassed a total repair bill of more than £1 billion over the last 3 years from cracking their mobile phone screen.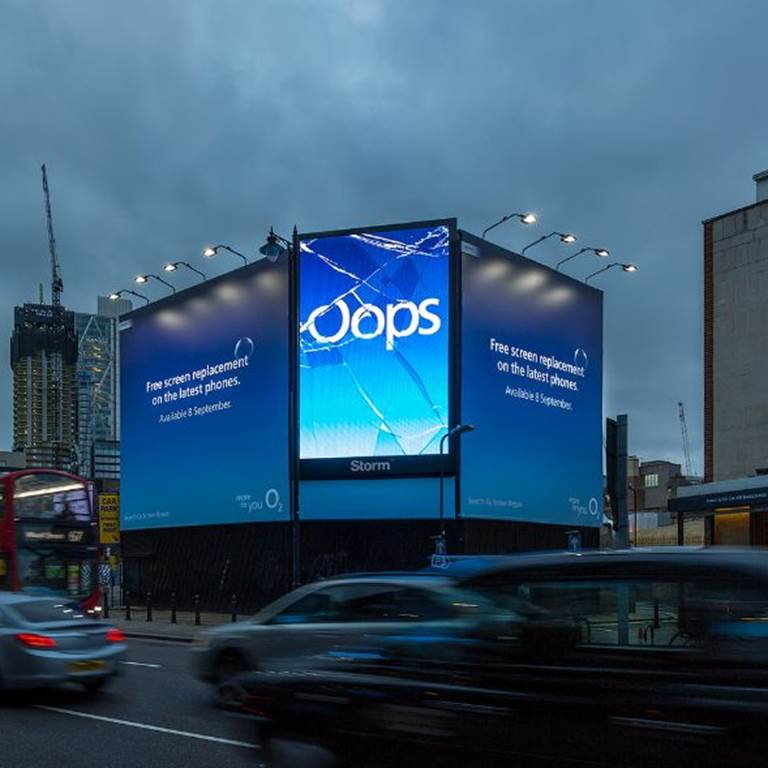 VCCP's creative team came up with a simple, visually iconic style of a cracked screen over O2's signature blue grad. 
The word 'Oops' was a playful way of dramatising the horror of cracking your screen. In reality people say a lot more than 'Oops', but the word gave a cheeky nod to just how easy it is to drop and smash your phone.
This was an incredibly flexible concept, able to translate across multiple media formats. The idea lent itself brilliantly to media, allowing for distinctive but also really playful and creative placements of the concept to bring the idea to life. 

It resulted in a truly integrated campaign running across print, TV, OOH, VOD, snapchat and retail. 
And the end result certainly delivered, with customers jumping up to three tariff bands to take up the free screen replacements, increasing the value of customers as well as O2's market share of new iPhone customers. 
It's a great piece of work, it brings a product proposition to life in a way that is quite difficult to do, but does it so simply and so quickly, you get the idea in a split second. Rian Shah, Managing Director, UK Hub, Zenith