Introducing Parents vs Kids - the latest manifestation of an innovative partnership between O2 and NSPCC in supporting families and helping keeping kids safe online.
This is a voice powered interactive game show experience on Amazon Alexa - Typically used with the Amazon Echo devices as a Home Assistant, but now this conversational interface became our content hub, and quiz master.
This latest intriguing piece of mass market affordable tech for the home typically sits within family environment like the living room - the perfect scenario to help us more naturally pit parents and children against each other in a quiz.
1 in 4 children under the age of 13 receive inappropriate messages online.
Research commissioned by O2 & NSPCC revealed there is a generational gap between parents and kids when it comes to internet use and safety. Not ideal when the dangers children face online have never been greater.
Parents are struggling to deal with this new world of technology. Most parents are comfortable managing visible risks, like screen time. However, only 50% are talking to their children about what they are doing on their devices.
How could we help facilitate those conversations? And communicate the issues of online safety to both parents and their children?
We built 'Parents vs Kids', a voice-activated, multi-modal interactive quiz on Alexa enabled devices to see who really knows more about the online world…the parents or the kids.
Alexa, play Parents versus Kids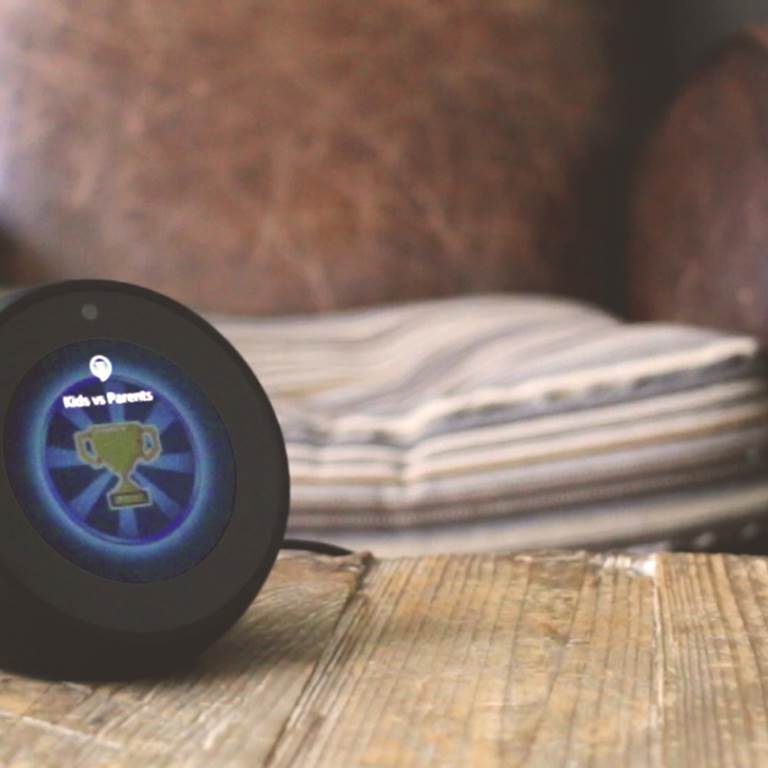 By dressing up serious points about online behaviour in a fun and accessible way we'd managed to speak to many more people than a straight-talking campaign might have managed.

We invited a few famous faces along, to help add their voice to the game. Richard Osman and Lauren Layfield, both joined Alexa as the hosts and team leaders for the game.
Then had Ginger Spice and her daughter, Bluebell, play the game to help promote it via social and online.
But, even more importantly, with families on average spending 7 minutes 45 seconds engaging with out quiz, and by setting parents and kids against one another, we got them together, to have fun and learn a bit more about online safety.
To help reach even more people without an Amazon Alexa enabled device we made a 2 player visual version of the quiz too that lived on O2.co.uk.
And to help spread awareness we created an online hub, with a live totalizer that kept score on who was winning - the parents or the Kids. also keeping tabs on what questions they were more likely to get right or wrong.     
Statistics & success
1 million+ questions asked
Generated 2 million+ online safety conversations between parents and kids - smashing targets 8 fold!
10 million+ parents reached through online campaign
48 million+ people reached through PR
450+ radio stations covered the story
2019 Webby Winner in Apps, Mobile, and Voice: Education & Reference.
Bronze & Peoples Choice Lovie Awards
Shortlisted for The Global Good Awards, Better Society Awards, Marketing Society Awards, Corporate Engagement Awards
Hit record levels of O2 NSPCC partnership Awareness (34%) after the phase 1 (Alexa Launch), only to be beaten (40%) after the launch of phase 2 (online game launch)