O2 Business needed an online content platform unlike any other business advice site.
O2 Business wanted to show small to medium businesses how the ever-increasing spectrum of technology could make their companies work better.

To do this, we needed to inspire, inform, and evangelise these benefits as well as demonstrate how O2 Business could enhance and support this further.

But this needed to be more than a blog of latest news and tips. Indeed, for this to work, O2 Business needed an online content platform unlike other business advice sites.
We identified users' needs and desires, and developed a content strategy pinned around a core set of subjects from inspiration and technology help, to information about working smarter and marketing.
This content needed to live in a site that practised what it preached.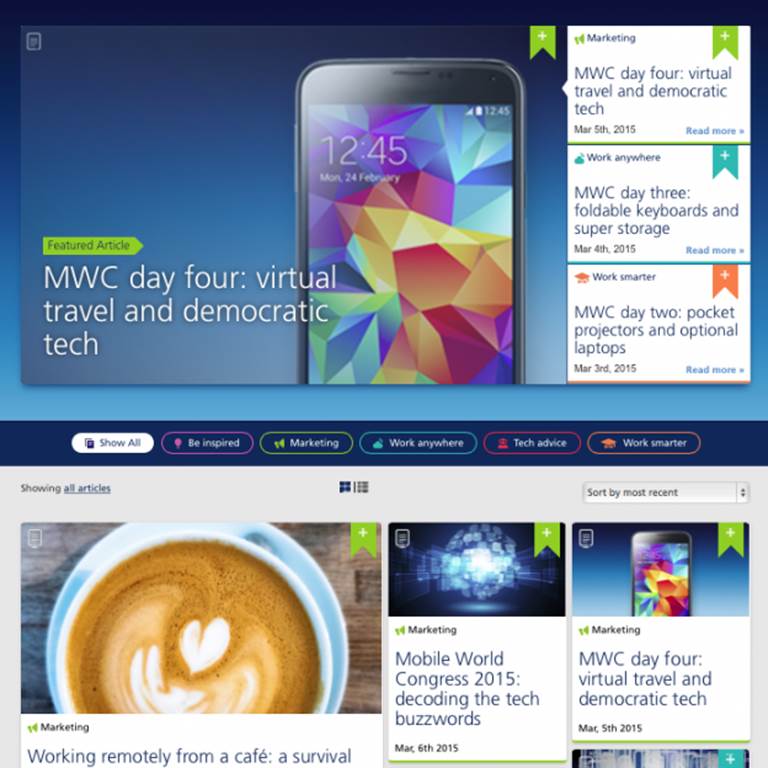 This content needed to live in a site that practised what it preached, showcasing through its design and use of technology a better, more efficient way to browse and digest content. So we created a fully responsive multi-device optimised site packed full of features unlike the other resources available to this audience.


The O2 Business Blog is designed to cater for all manner of media types; from video interviews and event coverage, to articles full of imagery and tips, to product demos, all within one consistent editorial framework.
The site uses some advanced techniques and features to make finding inspiration and information easier for time-stretched business people. The platform is mobile optimised to encourage access from anywhere, without compromising the content, and also uses quick searching with article auto-identification functionality. We also created a reading list tool allowing users to add articles to a personalised library that allows them to read it later.
Monitoring this personal reading list and other browsing data allows us to build user recommendations rather than just giving users related articles based on the keywords within the article. The O2 Business Blog recommends relevant and related content based on what users have shown interest in.
In the long term, it creates a virtual profile to serve users well informed content recommendations, removing the need to search for inspiration, and in turn making a bespoke content hub. Saving time in browsing, and giving users content they will actually want to read when and wherever they are.